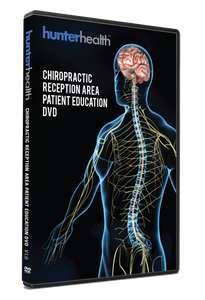 Chiropractic Reception Area Patient Education DVD
Regular price $199.00 $129.00 Limited Time Offer
Your Waiting Room. Reimagined. 
Designed to boost patient retention, this reception area video combines stunning graphics and animations with engaging, educational content to give your patients a clear understanding of chiropractic. Unlike any other on the market, our contemporary DVD showcases the vital role that chiropractic plays in overall health and well-being. If you think you already have an effective educational video, maybe it's time to think again. This product will significantly help every chiropractor educate and retain patients. Let your waiting room and our DVD work for you.
Some of the topics covered:
Anatomy of the Spine & Nervous System

The Subluxation Complex

Causes of Subluxations

Nerve Impedance

Disc Conditions

Chiropractic Adjustments

The Body's Self-Healing Mechanism

Biomechanical Imbalances

Degeneration of Joints

Conditions Treated by Chiropractic Care

Why Everyone Benefits from Chiropractic Care

Tech Neck

Importance of Regular Adjustments
"I haven't seen a DVD like this before. It explains Chiropractic so clearly and simply, with incredible graphics that allow patients to see internally how it all works. While my patients are waiting for me, they are comprehending not only why they need care, but follow-up maintenance as well."
Dr. Jim Sanfilippo
Kearny, NJ
Approx. 22 mins • Continuous Loop • No Audio